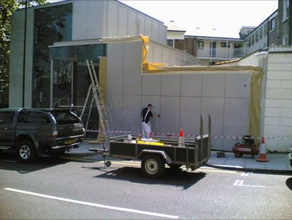 Intercity Contractors Ltd formed in 1997 and has since established itself as a firm reputed for quality and a commitment to providing the highest levels of professionalism, expertise and sterling customer service. We are the industry leaders in shot blasting and industrial painting contracting.
Reliable, efficient and unparalleled in terms of workmanship, Intercity has invested in training and a dedication to a customer-oriented ethos. Our team of skilled operatives are highly capable and experienced within the field.
The company has enjoyed great success over our 25 years and has evolved into a recognised service provider nationwide. We have an extensive portfolio of large projects both domestic and commercial; from celebrity homes to national landmarks. With impeccable credentials and an impressive portfolio of past projects our level of customer satisfaction knows no bounds.
Intercity Contractors are specialists in tough coating removals, be it concrete flooring, metal framework, concrete wall renders and are also fully trained in safe lead removal. We also specialise in coating applications on all surfaces including marine paints, epoxy resins and intumescent coatings.
---
Our Services